Social casino players are a promiscuous bunch; compared to their real money gaming counter-parts, they actively play and purchase on more sites, show less brand affinity, and download a higher number of casino apps. I'd go so far as to describe social casino players as snackers; they have a larger number of play sessions that are shorter in duration compared to those playing real money slot games. At the same time social casino players are flighty- the lifetime of a social casino player is a fraction of that of a real money gaming player. To sum this up briefly, attracting new social casino players is a tough enough task in and of itself, but engaging and retaining them is a different challenge altogether.
In response, many social casinos attempt to keep their app top of mind amongst existing players by churning out a high frequency of communications. The basic premise here is that by repeatedly reminding players of the existence of their product, this in turn brings them back to the app when they have spare time and are wondering what to do with it. It is a machine-gun messaging strategy aimed at keeping their brand top of mind.
When GAN entered the B2B marketplace in the U.S. in 2013, the overarching sentiment held by the operator community was that marketing online is no different than marketing offline: the casino is the master of the domain of the player whatever the form factor may be. As time went on, many operators began to appreciate the tool-kits, skill sets, and teams needed to perform day to day marketing activities have some overlap, but more substantial differences. In early 2014, GAN began to expand their in-house marketing and operational support staff significantly, and have contracted with many of the partners who have signed on to use GAN's platform for Simulated Gaming and / or Real Money Gaming; a footprint comprised of numerous multi-property and large scale Tribal operations from Coast to Coast. Outside of our own portfolio, the GAN marketing team continually analyse communication strategies from a number of top and mid-tier social casinos, and it is not uncommon for emails to be sent daily (on each of the 7 days in the week), additionally the social casinos will be sending push messages often more than once daily (rarely with an aligned messaging strategy), and lastly these companies will run heavy retargeting (following the player around the web with advertisements) campaigns that chase their players down over the internet with display advertising. With this quantity of communications, the obvious trade-off has been the quality. Messages are not personalised, offers are not relevant to previous playing/purchasing behaviour, time-restricted promotions do not match anything near a player's typical playing time (why do you want me to play at the dead of night if I usually play during a mid-morning coffee break?), copy and creative are often lazily produced and then frequently reused. From a relevancy standpoint, the majority of campaigns have the accuracy and precision of a blunderbuss; with examples of frequency shown in our study below.
Comms frequency study for new and active player group:
- Five of the top 20 Social Casinos by US market share
- Includes email and app push messaging (does not include ad retargeting)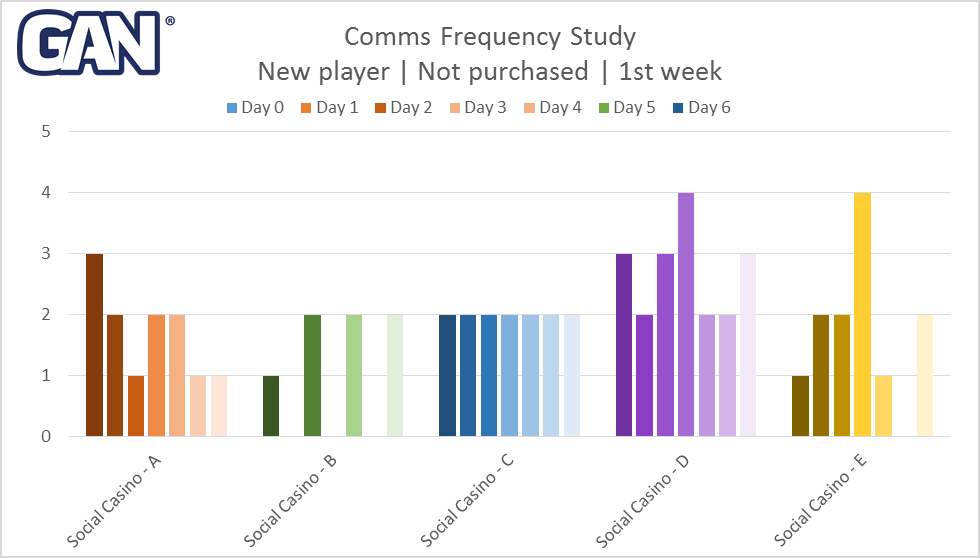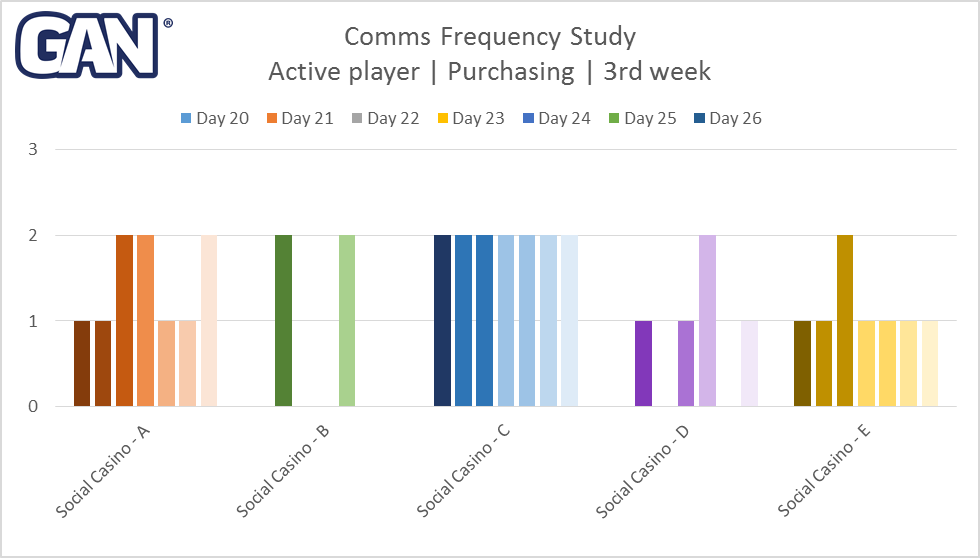 My instinct says that a deluge of largely generic messaging seems wrong, but then I cannot argue against the commercial success of the some of world's most successful gaming companies. As such, we applied a testing regime against our player base and came to some strong conclusions:
Confirmed: the existence of social casino magpies:
Given a lack of brand affinity, particularly in early stages of a player's lifecycle, some cohorts of players responded well to less-personalised, more frequent messaging campaigns. This "magpie" cohort were more likely to be actively playing other apps and were drawn to new bonuses launched and new games released. We termed these players "magpies" since they were easily attracted with messaging that pushed whatever was new and shiny, but, having had a taste, did not stay as long as other cohort counterparts. The magpie cohort have distinct demographic profiles (and I'm sure psychographic profiles also, were we to delve that deep) and were more likely to have been sourced from UA media that targeted other social casinos – particularly to native mobile app.
Confirmed: one rule doesn't work for all:

Magpies are an interesting cohort group, but their response and behaviour does not match that of all players. Others responded distinctly poorly to an increase in frequency of communications. These players are more likely to have a relationship with one or more of our casino partner brands and can therefore be considered brand loyal. Their response to communication campaigns over-index when sent highly personalised and segmented offers, but their drop-off when hitting a tipping point of communications frequency is steep and sudden.
Our study has led us to better understand the nuances of our casino partners' audiences and to help tailor their messaging strategies to those particular characteristics. Quality and quantity are not always interchangeable, but we have an understanding that there is a place for each. Achieving the right balance between quantity and quality, at an individual level, is a must if we are to compete successfully in a highly commoditized and competitive environment. Additionally, we realize that GAN differs from our social casinos study cases in that we are partnering with live bricks and mortar casino brands that already have affinity, brand loyalty, and engaged audiences. Were we to talk to their audience as if they were a "magpie" audience would be both detrimental to our partner's brand and would also deliver poorer results. That said when addressing a broader, flightier social casino audience, we don't encourage our partners to "shout" at their consumers and potential new players by taking an outsized share of voice to get a compelling message across.